What's a Rich Text element?
The rich text element allows you to create and format headings, paragraphs, blockquotes, images, and video all in one place instead of having to add and format them individually. Just double-click and easily create content.
Static and dynamic content editing
A rich text element can be used with static or dynamic content. For static content, just drop it into any page and begin editing. For dynamic content, add a rich text field to any collection and then connect a rich text element to that field in the settings panel. Voila!
How to customize formatting for each rich text
Headings, paragraphs, blockquotes, figures, images, and figure captions can all be styled after a class is added to the rich text element using the "When inside of" nested selector system.
Challenge
Dedicated space for immerging technologies is limited, and our challenge is to expand that to everyone.
Goal
Bring together creative technologists and immersive artists to build decentralized creative studios
Outcome
Helped prototype a 30,000 sqft VR arcade space in midtown Manhattan, on-boarded over 100 fellows into the Liminal community, and designed & prototyped several products and events.

Overview
Liminal is a collective of space designers specializing in VR, AR, blockchain and other emerging and existing technologies. Together, we've built and prototyped a VR space, VR events, a fellowship program, live streaming as marketing, and gamification for funding.
‍
‍
VR Space: VR World
VR World (VRW) is the country's largest and most well placed Virtual Reality Hub. They launched across from the Empire State Building with over 50 experiences spanning multiple genres from entertainment to social impact, music, gaming, sports, science, art, and more, all of which are housed within a magical, brightly colored retail space.
Liminal partnered with VRW to create a mixed use VR showcase & creative lab. The top floors of the building were designed to be a creative space – moving beyond coworking into a more collaborative open environment for immersive artists and VR/AR devs to mix and make new experiences.
Liminal used the space to develop new concepts for immersive physical environments. After several months of testing, we discovered that putting a creative lab into an arcade wasn't a good fit, and moved on to a more decentralized model.
‍
‍
Liminal Fellowship
The fellowship consists of over 100+ creative technologists with expertise in fields including VR, AR, AI, and blockchain development and design. The program will ultimately fund innovative and cross-disciplinary products that push the boundaries of these new technologies.
You can look more into the fellowship and our consultancy here.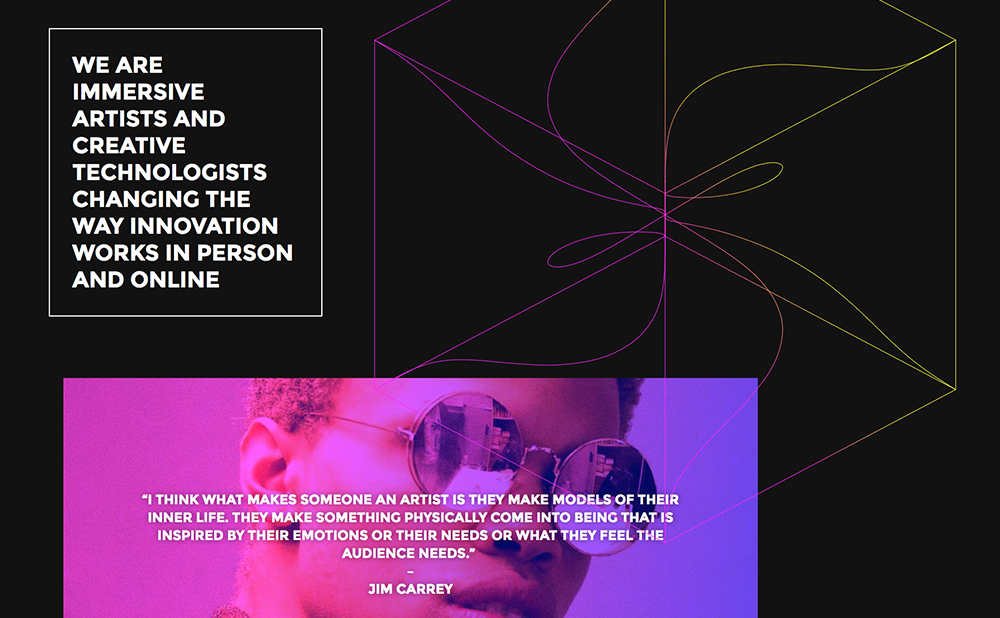 ‍
‍
Marketing: Live Streaming
One challenge that many creatives have is marketing. We love creating, but we have no idea how to show our work off. And after creating an accelerator program full of creative technologists, I knew I needed to find solutions to this problem. I believe strongly in the power of video, and since our program is full of people creating in 3D and online space, it made sense to market it via video and live streaming content.
I decided to be the first guinea pig as RGBubs. Now, it's not easy to break into streaming, but one of the most engaged and active communities is the gaming community. It was the perfect audience to start with. I researched, setup, and experimented with different types of streams at different times of day focusing on different content to see what would work. I was able to gain a solid base of 50 followers within my first month on both Twitch & YouTube.
My conclusion is that this would be a very powerful cross-promotional platform for our creative community to market their talent. Since we have produced several live streams under the Liminal name on Twitch.
‍
VR Events: Art Meets VR
Liminal co-hosted an arts + VR party at a friend's Soho loft. This will become a repeating series sponsored by relevant interested companies.
‍
Funding: Highscore
Highscore is a prototype of a pay what you want model for the new 500 million person mobile AR market. We built it as a leaderboard game to raise funding for artist grants, new Liminal spaces, new equipment, and more. In exchange for the limited edition AR art & creator packs made through these projects, contributors also help raise money for social causes chosen by participating AR / VR & 3D artists: including Harvey, Irma, and Maria hurricane relief, Mexican earthquake assistance, and teaching low income local youth how to create in VR with us at the Dumbo studio of our first featured Artist in Residence, Eva Davidova.
We collected objects from our VR events and quickly prototyped a version of the funding platform. Although we have gathered feedback internally, we have yet to market it to our larger networks. You can check out the current prototype here.